When it comes to loving your job, there's a lot that comes into play. An awesome boss, friendly co-workers, and challenging responsibilities all make heading into work feel more like a privilege than a chore.
But, let's be honest—a sweet office doesn't hurt either.
These 18 companies pack all of the above into spaces that are seriously out of this world—think state-of-the-art fitness centers, nap spaces, in-house chefs, game rooms, and more.
Land a job at one of these places, and you'll look forward to arriving at work each day. We only have one final question: When can we come visit?
Credit Karma empowers consumers to track, maintain, and improve credit health with expert advice and free tools.
In addition to advancing financial wellness, Credit Karma is all about healthy living. The company was named one of the healthiest employers in the Bay Area by the San Francisco Business Times and Silicon Valley Business Journal. Between healthy snack options, on-site yoga classes, and an in-house barista, you're sure to be energized and happy all day long.
Dun & Bradstreet helps grow valuable business relationships by uncovering important patterns in industry data and delivering analytical insight to its global network of customers and partners.
With so many awesome offices spread out across the world, it's hard to choose which of their many sweet perks are worth a mention. From foosball tables, a relaxed dress code, and on-site exercise rooms to nap chairs, Bagel and Frozen Yogurt Fridays, and visits from ice cream trucks and guest chefs, every single Dun & Bradstreet office boasts fun elements that keep employees not only coming back—but looking forward to work each day.
Squarespace empowers millions of people—from individuals and local artists to entrepreneurs shaping the world's most iconic businesses—to share their stories and create an impactful, stylish, and easy-to-manage online presence. Squarespace's team of more than 950 is headquartered in downtown New York City, with offices in Dublin and Portland. To learn more about our opportunities, click here.
As a company that specializes in beautiful websites, it comes as little surprise that the Squarespace office is beautiful too. But, stunning looks aside, it's the cafeteria—stocked with goodies that teammates can always snack on—that really keeps employees both full and happy. Resident Chef Katrina cooks the team a hot, delicious, and free lunch four days a week, and the remaining day, Thursday, is reserved for take-out.
4. Take-Two Interactive Software
Take-Two Interactive is a leading developer, marketer, and publisher of interactive entertainment—from console and handheld games to personal computers and smartphones.
Fun and games is a core part of the culture at Take-Two Interactive Software—seriously. "It's totally okay to take a five-minute break and play a video game. That's a part of our job, and it's important to know what's out there," says Alex Marti, Digital Sales Manager. Combine that with things like coloring on the roof, an ice cream social, and the company tradition of "Cookie Fridays," and there's no denying that this is one sweet place to work (yes, pun intended) .
Operating from offices in Tel Aviv, Los Angeles, London, Bangkok, New Delhi, Tokyo, Sao Paulo, Shanghai, Beijing, Seoul, and Istanbul, Taboola is undoubtedly one of the world's largest online discovery platforms. By partnering with publishers, marketers, and advertising agencies around the globe, the company increases user retention for client sites, effectively monetizing traffic and distributing quality content to targeted audiences.
There's only one way to describe the atmosphere at Taboola: awesome. The company's London office boasts pub-themed conference rooms, a game room equipped with an Xbox and a ping-pong table, and walls that are covered in graffiti designed by a local artist. And at the NYC location, there's a game room and afternoon beers, as well as initiatives to encourage learning—including a speaker series and Taboola University, a weeklong training for new hires.
TripAdvisor, the world's largest travel site, enables travelers to unleash the full potential of every trip. With over 760 million reviews and opinions covering the world's largest selection of travel listings, TripAdvisor provides travelers with the wisdom of the crowds to help them decide where to stay, how to fly, what to do, and where to eat. TripAdvisor also compares prices from more than 200 hotel booking sites so travelers can find the lowest price on the hotel that's right for them. TripAdvisor-branded sites are available in 49 markets, and are home to the world's largest travel community of 490 million average monthly unique visitors—all looking to get the most out of every trip.
TripAdvisor knows the importance of creating a space where people feel laid-back and comfortable in order to keep creative ideas flowing. The company has a vast new office, and let's just say that it's straight out of our dreams. In the space, employees enjoy everything from state-of-the-art gym equipment and an on-site culinary team to game rooms and—an employee favorite—a private pub.
HBO delivers premium programming to more than 150 countries around the world, and it is always seeking top talent. The company offers not only competitive pay and benefits, but also an inclusive environment that celebrates diversity. An advocate for balance between work and life outside the office, HBO is also serious about creating positive change and supporting important social issues that touch the community of its fans, consumers, and candidates. Across the company, HBO welcomes passionate people who are committed to creating and delivering quality content.
HBO's New York City headquarters offers tons of different spaces where employees can socialize and connect. Team members can enjoy energetic workouts at the company's convenient on-site gym, have breakfast or lunch with colleagues at "The Bistro," or grab a quick pick-me-up at one of the office's coffee areas.
GSK dedicates itself to creating a healthier population the whole world over by researching and developing a broad range of innovative products in pharmaceutical, vaccine, and consumer healthcare arenas. The company boasts commercial operations in more than 150 countries, as well as 89 manufacturing sites and R&D centers in the UK, US, and Belgium.
GSK's offices across the world look like something straight out of the future. Seriously, they're something you really need to see to believe. But, inside those jaw-dropping spaces, the company packs plenty of office perks, including on-site fitness centers, coffee canteens, and the flexibility to move around the office—rather than being stuck with a specific desk or workspace.
Stack Overflow is the largest, most trusted online community for developers to learn, share their knowledge, and build their careers. Our products and services are focused on developer marketing, technical recruiting, and enterprise knowledge sharing. As a remote-first culture, employees are given the autonomy to get their work done their way. But they are also expected to be collaborative and ready to learn about others' ideas, which is only possible through open and honest communication. Employees also enjoy an exceptional benefits package—including generous healthcare coverage and a robust paid parental leave policy—to promote work-life harmony.
Nap spaces, game rooms, coffee bars, and in-house chefs. They're all things you'll find in Stack Overflow's different amazing office spaces. And, the company always keeps things interesting for employees through social events and beloved traditions. "Honestly, it's always fun here. There's always something going on," says Jean Anstett, Campaign Manager.
ProQuest connects people with vetted, reliable information. As a leading technology provider, ProQuest drives better outcomes for researchers and greater efficiency for the libraries and organizations that serve them. The company's cloud-based solutions are a gateway to the world's knowledge and enable researchers, students, and librarians to discover, access, share, create, and manage information.
Bright colors, fun wall art, and ping-pong tables abound in ProQuest's various offices. And, the company's employees appreciate that ProQuest works to foster such a spirited and collaborative environment. "There's always something fun built in, no matter which office you're in," says Sharon Daniels, Senior Manager of Customer Experience.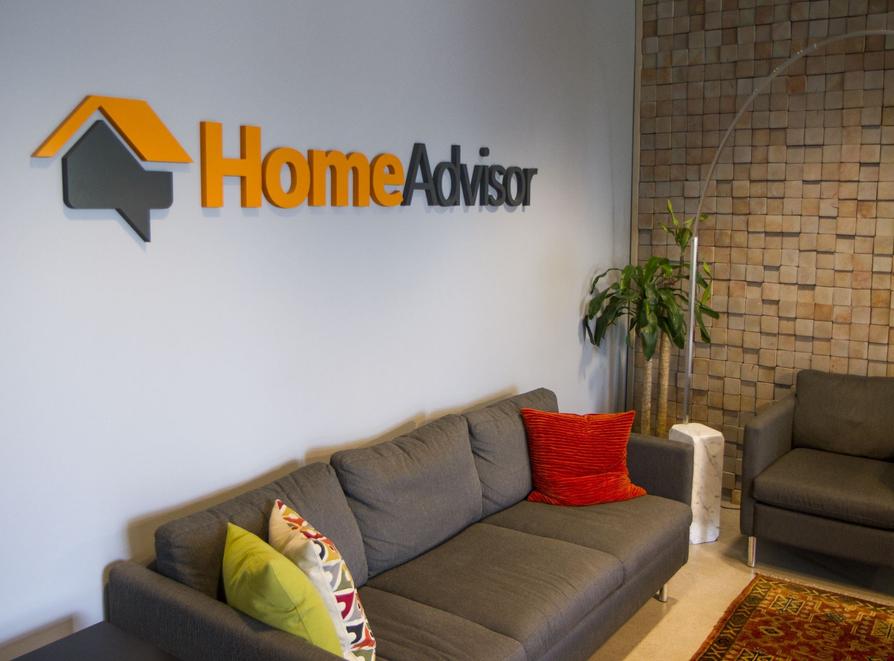 Launched in 1999, HomeAdvisor—an IAC owned company—is home improvement heaven to property owners and service professionals. Facilitating instant online booking, confident hiring, cost guides, and resources, HomeAdvisor matches homeowners seeking maintenance with the largest network of pre-screened home pros nationwide—all for free. Simultaneously, HomeAdvisor also connects qualified service providers with business boosting access to endless customers.
The energy is palpable upon entering any of HomeAdvisor's various offices, and much of that is thanks to the continuous flow of personal, professional, and office perks. Free cokes, coffee, and tea beverages keep teams going all day long and recreational sports like volleyball, soccer, dodge ball, and more amplify team drive. Add in things like pinball machines and free meals, and life in the HomeAdvisor office often feels more like a vacation than work!